Precast concrete and its uses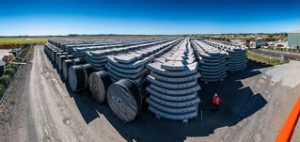 The difference between precast and site cast concrete is that the precast is made off site by using a mold. The precast concrete can be poured on steel or wooden mold with rebar or wire mesh. Also, mold can be placed on prestressed cable. The precast is transported to the building site once finished.
An important thing to consider is that not every precast concrete is reinforced with prestressed cable. Reinforced concrete is only useful especially where additional strength of structures is necessary. Regardless of everything, precast making is faster, more affordable, and safer than the standard concrete. Also, the precast products are versatile producing strong structures with the ability to
Integrate facades
Choose texture or form
Combine different colors
Be reused upon replacement
Projects that use precast concrete
The reason why precast concrete is diverse is the fact that it is versatile. Numerous projects use precast concrete to construct from stadiums to housing and bridges. Here are some of the projects that use precast concrete;
Parking
Economy, installation, and durability are some important things that need to be consider when designing a parking slot. Precast concrete is commonly used in single level and elaborated midrise parking structures.
Foundations
In a case where precast is not used to bring up the whole building, it can be used to set the foundation. Majority of homes have precast concrete irrespective of what makes the floors and the walls. In general, precast concrete is resistant to moisture and is energy efficient making it a suitable material for foundations.
Culverts
When talking of culverts, the underground tunnels found in ancient Rome are suspected to be constructed using the precast concrete. The modern underground structures are made in different sizes and shapes and very strong to help in drainage, stormwater, and retain water. Many of the structures are manufactured using precast concrete and they are durable, and easy to install.
Bridges
Precast materials are used to construct bridges. Precast concrete is used for deck slabs, girders, arches, and beams. Precast concrete enables the engineers to come up with environment friendly structures which are compatible with the historical surroundings.
Sound walls
These are structures constructed to act as sound barriers between highways and communities. The versatility of precast concrete helps in constructing structures which blends well with the surroundings. Do you know what is precast concrete? and what types of projects use precast concrete? Make sure you find interesting facts here.